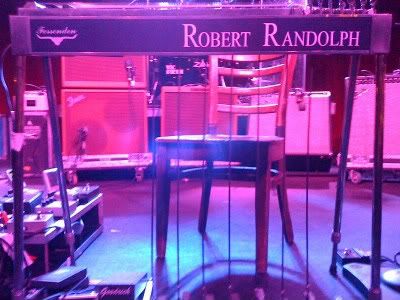 Been an eventful week at SDSG worldwide, the highlight being Wednesday nights Haiti relief benefit concert w / Robert Randolph at Brooklyn Bowl. With some great friends making the treck in from CT, the evening proved to be a special one, combining bowling, good eats and great music.
Charging through a number of jams, (including a sweet cover of MJ's Man in the Mirror) the band were firing on all cylinders. Randolph's steel petal / guitar work really lent itself to the rockin atmosphere inside the venue. Midway through the show, Erik Krasno of Soulive stepped out with his bandmates & replaced the family band, playing a short, but $$ set. Eventually both groups found themselves on stage jamming together into the wee hours. Truly, one of heck of show ...all for an important cause.
1. Intro
2. Jam
3. Squeeze
4. I Need More Love(Don't Stop Tease)
5. Man In The Mirror
6. Jesus Is On My Line~
7. Deliver Me~
8. Das Efx(Wanna Flex)@-->
9. Gilligan(Get Off The Island)
10.Jam*
11.Ain't Nothing Wrong With That*
12.Jam#
___________
13.??? # % & +
14.Everybody Wants To Rule The World # % & +
15.??? # % &
16.Manic Depression # % & * $
___________
17.Jam $ @ -->
18.Shining Star $ @ +
19.Blackwater(Good To See Ya) $ @
20.Rock With You @
21.Roll Up @
----
~Danny Barnes on Banjo
@Joey Williams on Guitar
#Eric Krasno on Guitar
%Neil Evans on Keys
&Adam Deitch on Drums
*Robert Randolph on Peddle Steele
$Will Bernard on Guitar
+Nigel Hall Vocals/Keys
-----
It's Friday folks. Go get yours..and go JETS!