Early last week we found ourselves struggling with whether we should head out to Camden NJ to catch Phish mid summer tour. Let's just just say we made the RIGHT decision. Once out there (w / brother Jared in tow) we met up with the brothers Bogle and proceeded to get DOWN in the BEST of ways.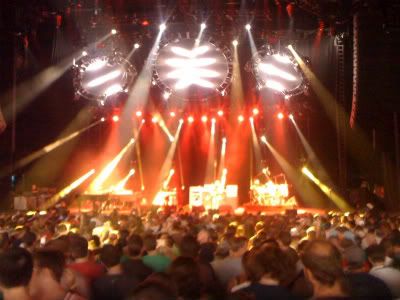 With the temps hovering around 90 degrees, the lot scene was real nice after a huge rainstorm ripped though cooling things off signifigantly. Once inside the venue, the atmosphere was electric (and heated) with the ancitipation of another epic Phish thowdown. What followed was sheer sssickness. Phish delivered what this GuY will remember as one of the VERY best shows we have ever seen ( and that show marked our 60th). When one gets a David Bowie, Gumbo, Reba, the Rover (Zepplin cover, DWD> Crosseyed & Painless, Hood, Fluffhead, Julius & YEM all in one show - u best BELIEVE it ranks up there.
Now we had every intention of coming back to NYC on Friday, but who were we kidding. OF COURSE we had to stay to see how Phish would follow up their best show of the tour. Once we decided we were all in, we hit the lots around 5ish and proceeded to do what we do. Party. The show itself turned out to be a slightly above average one. Highlights included an e EPIC 2001 w/ Billie Jean, Wanna Be Startin Something & Thirller Teases (MJ on year anniversary) as well a RAGING Possum.
After two days of awesomeness we headed back into the NYC with memories of another 1-2 show STOPPA at Camden. The boys NEVER disappoint at this venue & we intend to never miss another show when Phish comes through.
See you at Jones Beach.