There are moments & stretches in ones life you'll never forget. This past weekend was one of those for SDSG. We caught our 50th Phish show in Hartford this past Friday & what a classic it turned out to be. The band busted out so many rarities it was insane... Forbins, Mockingbird, Psycho Killer!?, Icculus!! Oh Man! To make the show even more special - we got to party down with some of our bestest buddies from both High School & College. Great to see everyone all sharin in the groove. Seriously....Hartford goes down as one of more fun shows we've ever been to.
Hartford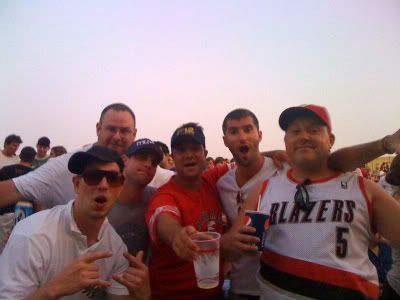 Heads
Saturday was all about chilling poolside w/ friends at my Momma's place in Fairfield CT. With temps hitting 90+ degrees, this really was the
only
place we wanted to be. Grilling, Boozing, Pool, Friends, Card Games, & BIG Ol'Smiles.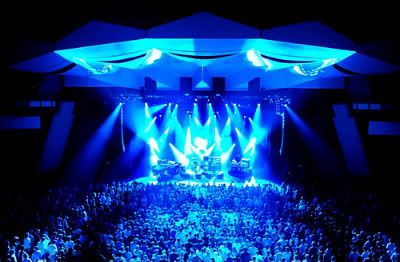 SPAC (photo -
D. Vann
)
And then there was Sunday. After a much needed clean up session (thx Billy & Jones) - we got on the road (destiny unbound) & headed up towards Saratoga Springs for Phish's summer tour closer (& SDSG's 51st gig). Having taken the Taconic Pkwy, the drive up was as scenic at it gets. Of course DJ Mastanugz supplied the bomb tracks. Highlights included, Rock > Surprise Valley > Murder Incorporated, & a bunch of others. Arriving at the venue, we flashed our SDSG credentials & skipped the traffic heading into the parking lot - placing us pretty darn close to the ampitheatre. As we made our way inside, torrential rains started to fall, but for SDSG & crew, it simply didn't matter. With 12th row, dead center seats..no problems / complaints.
From the opening chords of Llama, to the uber jazzy 'Cars Trucks Buses', to the end of an amazing-extended 'animal' themed 1st set (Possum, Ocelot, Antelope) the band was clearly i
n it to win it
. With one more set to go - the hype / energy was at a peak leveland the boys from VT did not disappoint. There were a ton of highlights non more than the ultimate bustout of 'Harpua'. OF COURSE they were going to play it. They've played pretty much everything else throughout the tour, so why not drop the bomb track of bombs track on the phans heads. If we thought that was it in terms of heavyweight jamz -they came back out and closed the show with Highway to Hell. WOW!!!
If you've never been to SPAC..... make sure you remember where you park. We spent an hour and a half looking for our car post show. CRAZY!!! Upon finding it - just pure elation.
So it goes folks. Shows 50 & 51. Friends new and old. What a trip!