Always takes SDSG a day or two before we get our mind right to recap the weekend. So here it goes.
The Gathering of the Vibes Friday was Real
Real
nice. We've been attending this festival since 01' & it's always something to look forward to mid-summer. Things started in the afternoon with a southern styled JJ Grey & Mofro set - which seriously smoked. These cats always bring their A+ game (and we appreciate that) Next up was Parliament Funkadelic...they were alright, but it doesn't get more hardcore than hearing / seeing "We Want the Funk" played by P -Funk. As the sun went down, Deep Banana got the crowd a-moving w/ their signature blend of rock grooves. The first song they played was Aces (not sure what the name is) Closing out Friday nights show was Moe (who we absolutely love). They played their asses off (5 songs worth) before the inclimate weather sent us & the band scurrying for cover.
Although the thunder & lightning was a total bummer, SDSG got to play an acoustic set for some lucky fans @ our buddies apartment as a result. The setlist went something like Sample in a Jar > Friend of the Devil > The Night They Drove Ol' Dixie Down, Wonderwall > Bug > Silent in the Morning > Wanted Dead or Alive, Last Dance w/ Mary Jane, AC/DC Bag > Elderly Woman Behind The Counter In A Small Town > Surprise Valley > Driving Song. Character Zero. If your looking to book SDSG - contact our Mgr. / Head of Security - TNash.
Woke up Saturday & was as ready to go. After a slow cruise around the Norwalk area picking up supplies, we met up with J-Ford for a boat ride to the 2nd Annual Cockenoe Island Beach Bash. Pulling up, you could see what looked like a 150 + people all in the throws of getting their par-tay on. Some people lounging on boats, others on rafts - all just thouroghly enjoying themselves.
The days highlight for me came in the form of an epic flip cup game vs. some competitive ladies (& few turncoat fellas). SDSG may have lost this one , but we'll live to play another day. As the sun went down, everyone tried to make their way back to the mainland, and by that I mean everyone jumped on the limited boats that were out there with the
hope
of getting in asap. Most did - some didn't (:cough: Jared + Galluppo :cough:) I ended up on the Stunnie
1
(Woody's ride) and was all good until we ran outta gas as we approached the harbor. No worries. Fordo came back out and picked us up. Upon touching down on land, to say that the kids equilibrium was off would be an understatement.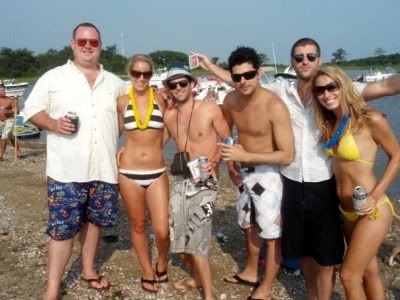 Sunday we had a $$ brunch with DD @ Harbor Lights (Filet Mignon Eggs Benedict + a Niiice Bloody) Headed back into NYC around 4PM and met up with a lady - nice
Summer 09' - u look good GuY!